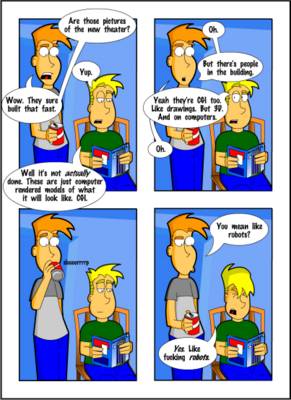 I'm pretty sure I already told this story to every person I know, but in case you hadn't heard it, the above scenario actually occurred between two Menards employees, one of which was my friend.

He was the one reading the magazine, not the one asking the questions.
Just keep that in mind next time you ask a Menards employee for help with your deck or beer bong or whatever it is you're trying to build.

On a technical note - when you click on the link to the comic, most web browsers will automatically scale it down to fit in the window. My comics aren't meant for that kind of containment. If you're using Mozilla just click on it again, it such bring it to actual size. If you're using Explorer click the little icon thingy in the lower right hand corner to do the same.

These comics are meant for more than 800x600.